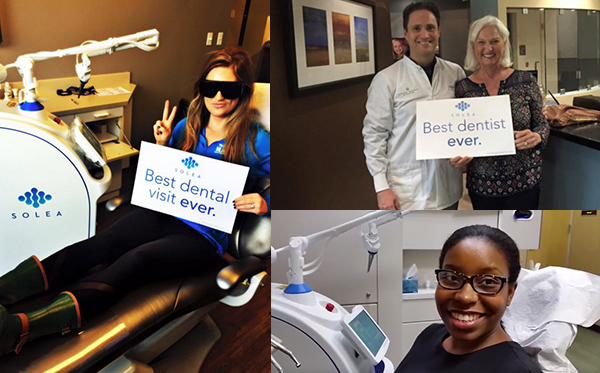 Unlike any other piece of dental technology, Solea is something patients want to talk and tweet about. Since the launch, we've seen videos and photos from patients across the country, commenting on Solea's impact on their dental experience. The best part is that people are often sharing on their own accord. Other times, dentists are asking patients to reflect on their experience. In both cases, practices are able to capture genuine, relatable reactions to Solea's stress-free dentistry.
As you consider ways to grow your business and to market Solea, we encourage you to share your success stories, too. Seeing and listening to other people helps prospective patients understand how Solea works on a very basic level: no drill sound, no discomfort, it's quick and easy. This is especially powerful because word of mouth is as big a driver as ever for new patient referrals. Depending on what your staff has time for, you can capture Solea stories any number of ways.
1] Video: After a procedure, use an iPhone to record a candid response. Like the video below, it only needs to be about thirty seconds! Pro tip: Hold the camera horizontally so you aren't left with an awkward black border when you upload to YouTube or Facebook.
One of our favorite examples is this one, from Dr. Tubo. In less than a minute, he shows how to treat a tongue tie with Solea. Just as impressive is the social response. 519  people liked the video, 142 people commented, and 227 people shared! Incredible results all around.
Dr. Jason Tubo does 10-second laser tongue-tie on Dr. Ben TuboThis is THE most state-of-the-art laser available in dentistry – the Solea CO2 Laser! Watch Dr. Jason Tubo fix Dr. Ben Tubo's "tongue tie" in 10 seconds with NO anesthesia! We've invested in the highest quality technology to make your appointments as safe, efficient, and comfortable as possible. The Solea laser makes gum surgery a breeze. We can always get you numb if you prefer – but now we don't always have to! Trouble with breast-feeding? Dr. Jason even treats tongue-tied newborn babies, referred by some of our local Lactation Consultants.What else can our state-of-the-art Solea CO2 Laser do?- Cavities and fillings with NO anesthesia!- Helps heal denture sores faster- Reshapes "gummy smiles"- Disinfects the tissue and kills bacteria during the procedure- Reduces bleeding and healing time- Makes filling appointments easy-peasy for kiddos- It "numbs" the tooth (analgesic effect) while it works- Reduces the need for a dental drill during appointmentsCall our team to schedule your new patient exam! (508) 234-8107

Posted by Whitinsville Family Dentistry on Thursday, January 21, 2016
Another great example shared mother-daughter duo, Kristin and Lindsey's thoughts immediately following a shot-free Solea experience. "She was thrilled!" reports Mom.
2] Photos are also a way to create content for your social channels. We've created fun signage that make it easy for you to snap a pic post-procedure.
3] YouTube and Facebook: To get the most of your testimonials, make sure there is a place online for them to live. Create a YouTube channel for your practice. Make sure you're up and running on Facebook – a great place to post photos because they let you tag your patients — and us!
Of course, there is Twitter, too.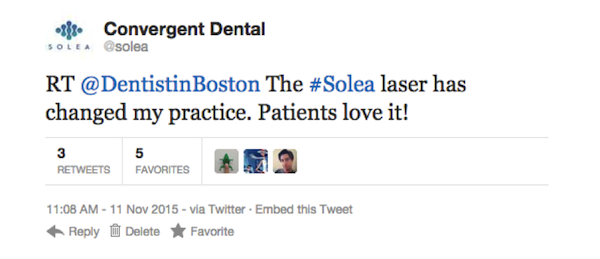 If photos are your thing, take a page out of Wayzata Dental's book and tweet your Solea success stories everyday!
These tips should get you started! If you need any help, don't hesitate to send us a tweet, @Solea!